Hiroki Aoki
[ English | Japanese ]
Welcome to the web-page of Hiroki Aoki.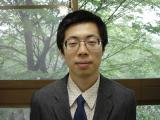 Associate Professor
Department of Mathematics, Faculty of Science and Technology, Tokyo University of Science,

Address : 2641 Yamazaki, Noda, Chiba, 278-8510 Japan
Phone : +81-4-7124-1501 (ext. 3118)
FAX : +81-4-7123-9762
E-mail : aoki_hiroki at ma.noda.tus.ac.jp
Curriculum Vitae
My Research (Including Publication List)
My research interests are Modular forms, Automorphic forms, Jacobi forms, and their ring structure.
---
Department of Mathematics, Faculty of Science and Technology, Tokyo University of Science
---
Last modified: Fri Apr 2 19:56:29 JST 2010